Congratulations Flowers & Bouquet Delivery
Every little achievement in life that contributes to success and brings joy is worth celebrating. Whether it is graduation, a new job, being new parents, or a new friendship, these are moments and occasions that deserve congratulations flowers.
A beautiful bouquet of congratulations flowers will be perfect for sending your loved ones to put a smile on their faces, and they will genuinely appreciate it. Hibye's Congratulations flowers and flower bouquets provide customers with quality flowers for friends, relatives and loved ones.
Congratulations Flowers - all-day delivery
Best congratulations flowers consist of quality flower arrangements. Hibye in Singapore has a 24-hour service that will provide congratulations flower delivery to your friend or loved ones anytime. They have same-day delivery; if you order today, your congratulations flowers will be delivered within 24 hours.
You don't need to worry if you need to send congratulations flowers in the very first hours of the day. Simply order the congratulations flowers, and we'll deliver them to the recipient.
Why Buy Congratulatory Flowers From Hibye
A local florist makes Hibye's Congratulatory flowers in Singapore. They make flower arrangements that will be suitable for any occasion that you need them to.
If you want to send a congratulatory flower or bouquet of flowers across Singapore, Hibye, with its same-day delivery, makes sure your greetings of "congratulations" will reach them on time.
Send flowers, bouquets, and congratulations flowers at a reasonable price for their quality.
Congratulate your loved ones with Congratulation Flowers
Flowers express feelings and congratulations for centuries. Flowers' beauty can convey various emotions and sentiments without needing words. They express joy, admiration, appreciation, friendship, love and more.
Sending someone flowers to congratulate them on their success is an everlasting way to show honour by being part of their special moment. Whether it's for a graduation, promotion, new job or marriage, sending flowers is an enduring tradition that always conveys the perfect sentiment.
Frequently Asked Questions
What flowers are suitable for Congratulations Bouquets?
When congratulating someone on a special occasion, nothing quite says 'Congratulations' like a bouquet of flowers! However, choosing the right type of bloom for congratulations flowers can take time and effort. Here are some tips for selecting an arrangement that is sure to show your appreciation and best wishes:
1. Lilies
Lilies are a classic choice for congratulations bouquets. They come in various colours, shapes and sizes, making them easy to tailor to any occasion.
2. Roses
Simple and elegant, roses are a timeless option for congratulatory flower arrangements. Red roses convey passionate love and admiration, while pink roses express sweetness and joy.
3. Orchids
Orchids are an exotic choice for a congratulations bouquet and a great way to make a statement! Whether you opt for stunning Phalaenopsis orchids, miniature Cymbidiums, or unusual Paphiopedilums, your recipient will be sure to remember your thoughtful gesture.
4. Carnations
Culturally associated with luck and prosperity, carnations make for a cheerful congratulations gift. Available in almost any colour imaginable, from pale pinks to deep purples, you can customize this flower to your recipient's taste.
5. Chrysanthemums
Traditional chrysanthemums are an excellent choice for a congratulations bouquet. Symbolizing cheerfulness, optimism and long life, they make a fitting tribute to any celebratory occasion.
What Color roses for congratulations?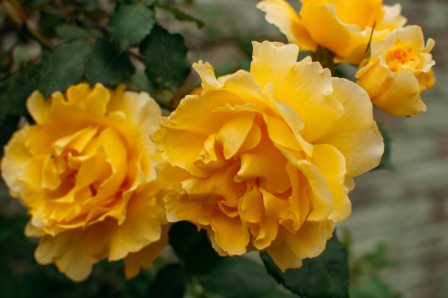 Yellow roses are a popular choice for the perfect flower to say congratulations. The yellow hue is associated with joy, sunshine and happiness - making yellow roses ideal for expressing your well-wishes!
Yellow roses also symbolize friendship and caring – so they're an excellent choice to send someone thoughtful congratulations. Whether it's yellow roses in a bouquet or a single yellow rose, they'll let the recipient know you are celebrating their success and congratulate them on their remarkable accomplishment.
Send yellow roses to congratulate family, friends, co-workers and loved ones – and make them feel exceptional. With these bright yellow blooms, you can show how proud you are of that special someone!
What flower symbolizes Congratulations?
The most popular flower to express congratulations is the orchid. Orchids are known for their beauty and elegance, making them perfect for expressing your well wishes. The symbolism behind orchids also extends to success, strength, and love, making them a great pick to congratulate someone on an accomplishment.